Memorial Health Foundation
A thriving healthcare system is truly the foundation of a healthy community. Without our health, we have nothing.
Since 1981, Memorial Health Foundation, a not-for-profit organization, has been dedicated to building a healthier community through education, special patient assistance funds, charity care, state-of-the-art medical equipment, and funding to areas where the need is greatest throughout the Memorial Health System and our community.
But we can't do this alone. We are so grateful for our generous benefactors. With your help, we can continue to provide world-class healthcare close to home. Please consider making a gift today.
Every year, Memorial Health Foundation sponsors and hosts several events to benefit a designated cause within Memorial Health System. These events bring together our community to raise awareness and support for our Cancer Patient Emergency Fund, Selby General Hospital, home and hospice, as well as our other funds we have to assist our patients' needs.
Our annual fashion show brings together local businesses', cancer survivors, and a fun filled evening for our community. Proceeds from this event go directly towards our Cancer Center Breast Health Fund as well as the Cancer Emergency Patient Fund. This fund provides patients with prescription drug assistance, medical supplies, gas cards, and helps with any other needs a patient might have during their treatment at cancer center.
Our Selby Golf Outing is a fun filled day full of golf benefiting the greatest area of need at Selby General Hospital. Your fee for the tournament includes green fees, golf cart, boxed lunch, reception, and dinner. Each year, prizes are awarded to the first, second, and third place teams. Skill prizes are awarded on every hole. Individuals or companies can also sponsor individual holes at the event to further support Selby General Hospital.
Since 1991, Love Lights has provided an opportunity for people in our community to honor friends and loved ones with beautifully glowing holiday lights. Dedicating a Light of Love is a brilliant way to commemorate a very special person or celebrate how much someone means to you. Love Lights is an opportunity for our community to honor their loved ones while supporting heart and hospice needs.
Our annual Memorial Health System Fund Run 5K is an awareness and fundraising event held every fall that benefits the health of our community. Proceeds from the race directly support three funds housed within Memorial Health Foundation: Stroke Support (Bridges Forward), Diabetes Education, and Bariatric Exercise Program. Included below is additional information on each:
Stroke Support (Bridges Forward) provides community-based exercise programs for stroke or neurologically injured individuals.
Diabetes Education provides educational support at low or no cost to patients needing support and living with diabetes.
Bariatric Exercise Program provides exercise program opportunities to patients wanting to improve their health and lose weight.
Board of Trustees 2023 Slate
Donn Schafer – Chairperson
Amy Elliott, PhD – Vice Chairperson
Scott Silvestri – Treasurer
Dan Breece, DO
Joshua I. Campbell
Nicole Coil, JD
Colleen Cook, JD
David Haas
Melissa Montgomery
Rocky Peck
Shannon Stevens-McLain, DDS
Susan Strauss
Shawn Taylor
Usha Vasan, MD
Joseph Zacharias, MD
Serving the Community
Giving For the Future
Videos can be viewed in the Donor Stories tab.
How to Give
Online:
Mail
Memorial Health Foundation
P.O. Box 112
Marietta, Ohio 45750
Annual Fund
Click here to learn more about the Funds we offer
Every gift to Memorial Health Foundation is important, no matter how large or small. For 40 years, Memorial Health Foundation has depended on private philanthropy from our Annual Fund to support new equipment, programs, capital upgrades, education, and professional development.
Gifts to Memorial Health Foundation ensure that Memorial Health System can make world-class services available to all members of our community.
Honor and Memorial Giving
By making a gift to honor someone important to you or to pay tribute to the memory of a loved one who has passed away, you are showing the unique mark that they have left on your heart. And you will be making a difference in the lives of our patients.;
Your gift will benefit the program or initiative of your choice. In addition, when you make a gift to honor or in memory of someone, we will notify the family or person you specify (your contribution amount remains confidential).
Please indicate with your gift the person or family that should be notified along with their mailing address.
In lieu of flowers, please consider a contribution in memory of (deceased name) to Memorial Health Foundation. Gifts can be made online or by mail.
Gift Planning
We can help you create your legacy. Memorial Health Foundation supporters are able to express their personal values along with their charitable, family and financial goals when they plan their giving. Planned gifts enable Memorial Health Foundation to continue the legacy of world-class care for future generations.
In addition to writing a check, transferring securities or signing a multiyear pledge, you can choose a life-income gift that pays you and/or a loved one an income for life or a testamentary gift that occurs after your lifetime.
To learn more, click here!
Gifts of Stock or Wire Transfer
Thank you for your interest in making a stock or wire transfer gift to Memorial Health Foundation. Please contact Jarrett Stull, Executive Director (jarrett.stull@mhsystem.org or (740) 374-4914) for information your broker or banker will need to transfer stock or wire fund us.
Mail Gifts Securely to Lock Box:
Memorial Health Foundation
P.O. Box 112
Marietta, OH 45750
Correspondence Mail to:
Memorial Health Foundation
P.O. Box 97
Marietta, OH 45750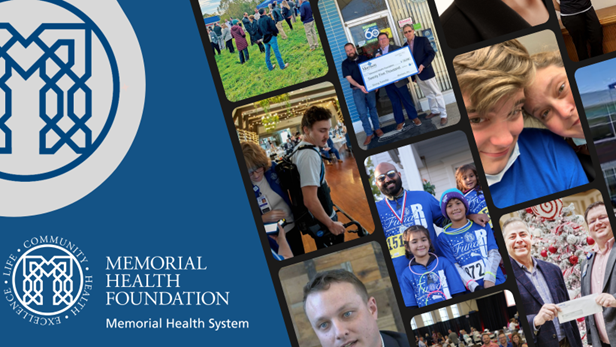 For more than 40 years, Memorial Health Foundation, a not-for-profit organization, has been dedicated to building a healthier community through education, special patient assistance funds, charity care, state-of-the-art medical equipment, and funding to areas where the need is greatest throughout Memorial Health System.
Memorial Health Foundation is proud to improve the health of our region through philanthropy. The Foundation prioritizes grants to meet the financial needs of Memorial Health System yet designates funds each year to support non-profits with a similar mission to the health system.
The following guidelines will be used by the Marietta Memorial Health Foundation in selecting grant recipients and in advising potential applicants for funding.
Grants awarded to both Memorial Health System and community organizations have the following funding priorities:
Charity care
Community education/outreach
Capital improvements (construction, equipment)
Seed money for new services
Ongoing support of current services
Priority consideration will be given to not-for-profit organizations whose work directly supports and complements the mission of Memorial Health System to improve the health of our communities.
Limited support is available to national organizations with local chapters. There must be a clear tie between the work of the organization and the Memorial Health System's mission. Lowest priority is given to requests with no direct link to enhancing quality of health in our region.
Memorial Health Foundation generally does not award grants to or in support of an endowment.
Additional Non-Profit Eligibility
Priority is given to not-for-profit organizations within the Memorial Health System service.
Ohio Counties (Athens, Gallia, Hocking, Meigs, Monroe, Morgan, Noble, Perry Vinton, and Washington)
West Virginia Counties (Calhoun, Doddridge, Jackson, Mason, Pleasants, Ritchie, Roane, Tyler, Wetzel, Wirt, Wood)
Individuals are not eligible.
Memorial Health Foundation will consider proposals for operating expenses and special project grants.
In appropriate cases, support may be "in-kind," as in use of space, services, or leadership. The Grants Committee will evaluate availability of funds versus when dollars are needed by recipient.
Sponsorships
Memorial Health System Marketing Department manages all sponsorship requests. For sponsorship requests, please visit mhsystem.org/sponsorships or contact (740) 374-1634 to learn more.
Grant Cycles
Memorial Health Foundation offers two grant cycles per year. Grant cycles are as follows:
Grant proposals are due February 15th or September 15th by 5:00 p.m.
Grant applications will open July 1st and December 1st.
The Grant Committee for the Board of Trustees will review proposals by February 28th and September 30th.
Selected non-profits will be invited to present their proposal to the Grant Committee during the months of March and October.
The Grants Committee will submit recommendations for approval to the full Board of Trustees during the April and November board meetings.
Memorial Health System and non-profits approved for a grant will be notified in a timely manner following the April and November board meetings.
Organizations awarded funds are required to skip one grant cycle before a future request will be considered. (Memorial Health System is exempt from skipping one grant cycle when funds are awarded.)
Applications for our Fall Grant Cycle will be open July 1, 2023